COVID-19
The Office of Graduate and Postdoctoral Studies is working to ensure that existing and incoming graduate students, and applicants stay informed of the University's response to the evolving global impact of COVID-19.  The University is continuing to update our COVID-19 page with recent information, answers to FAQs and other resources. 
Existing Students: see UPDATE FROM THE AVP GRADUATE STUDIES.  For international students with questions relating to your study permit, please connect with your international student advisor; if you have gone abroad or intend to go abroad, and you have new immigration or travel concerns, please consult with your international student advisor.
Incoming Graduate Students:   Students expecting to start summer'20 should have received an email outlining your options; if not,  please email us.  Students expecting to start fall'20 should count on doing so, at least until told otherwise.  If you have questions or concerns about meeting the conditions on your offer letters, please email us.
Applicants: We continue to process applicants and issue of offers of admission. 
The Office of Graduate and Postdoctoral Studies is committed to supporting our students.  We will work with you to ensure minimized disruption for all current and incoming students. 
3MT - Three Minute Thesis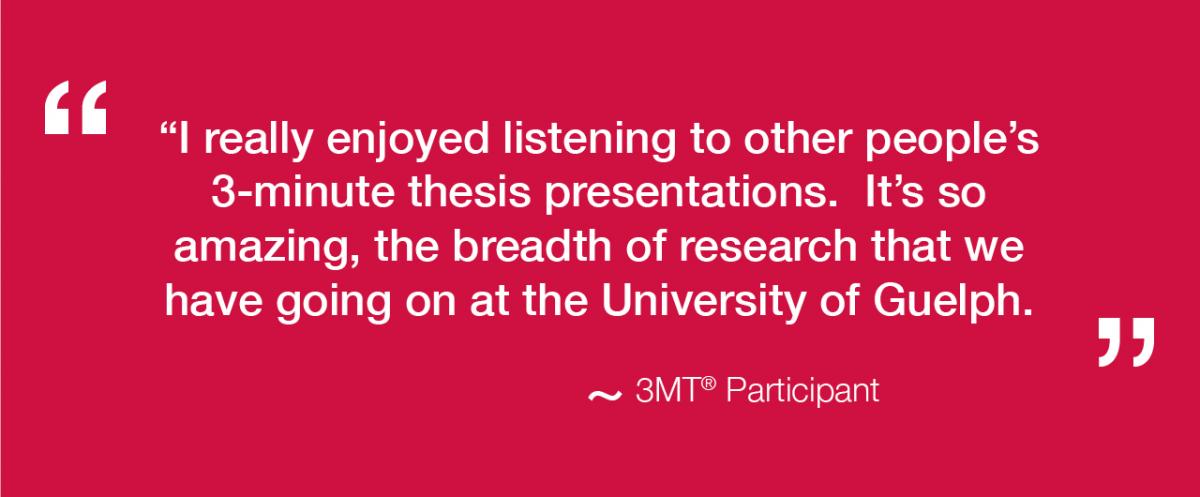 3MT update?
It comes with great sadness to inform all of you, that U of G's competition has been cancelled.  Our hopes were to postpone the event, but with the uncertainty of the current situation, we have to cancel.
We know you have all invested countless of hours preparing for this incredible and enlightening competition.  Although we are not able to see all the hard work, we strongly believe you've gained valuable skill sets that will
enhance your pathway. 
Thank you to all those who competed in their college heats, developing and improving your presentation skills.
We hope to see some of you for next year's competition and we wish everyone continued success in their studies.
Sincerely,
The Office of Graduate and Postdoctoral Studies

How to Register
1) Complete the 3MT Registration and Participation Waiver Form
2) Email the completed form to your college's 3MT Coordinator
3) Begin planning your 3MT presentation!
Tips, Advice & Resources
How To Build a Great 3MT Presentation
Eligibility:
To participate in 3MT® students must currently be registered in a Masters (thesis or MRP only) or PhD program at the University of Guelph and have made substantial progress on their research and analysis.
PhD and Masters students who have defended but have not yet graduated are eligible to participate.
Presentations must be based on research that is directly related to the student's graduate program thesis.
Presenters must agree to be video-taped
Rules:
A single static PowerPoint slide is permitted (no slide transitions, animations or 'movement' of any description, the slide is to be presented from the beginning of the oration).
No additional electronic media are permitted (e.g. sound and video files).
No additional props (e.g. costumes, musical instruments, laboratory equipment) are permitted.
Presentations are limited to 3 minutes maximum and competitors exceeding 3 minutes are disqualified.
Presentations are to be spoken word (eg. no poems, raps or songs).
Presentations must be made by memory; notes may not be used.
The decision of the adjudicating panel is final.
Dates
CEPS
March 3, 2020
10 am - noon

SSC 1511

Lang
March 4, 2020
2:30 - 4:30 pm

MACS 129

CSAHS
March 6, 2020
10 am - noon

MCKN 019

OVC
March 9, 2020
10 am - noon

PAHL 1810

CBS
March 11, 2020
9:30 am

SSC 1511

OAC
March 12, 2020
10:30 am - 1:30 pm

Johnston Hall 
Boardroom

COA
Cancelled
 

 
University of Guelph Final Competition
| | | | |
| --- | --- | --- | --- |
| University of Guelph 3MT® Final Competition | Cancelled |   |   |
Provincial Competition
The winner of the University of Guelph 3MT® competition will move on to represent the University at the Provincial Competition hosted by the University of Windsor is now postponed.
Past U of G Winners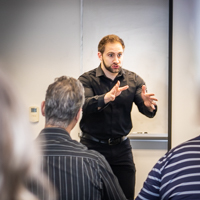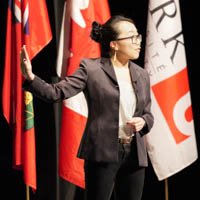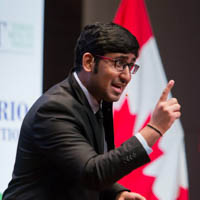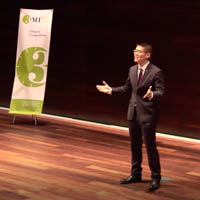 Share this page