3MT - Three Minute Thesis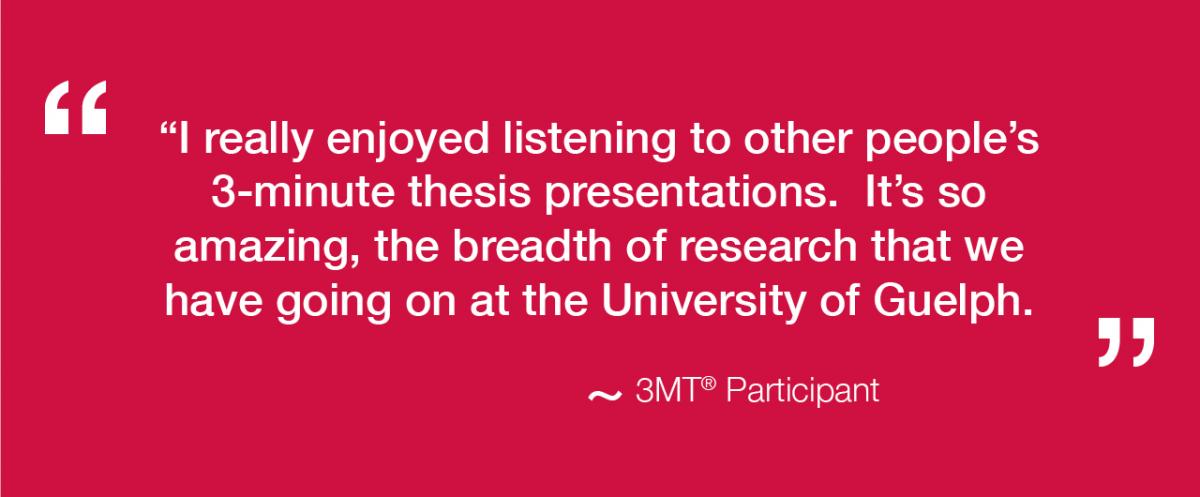 3MT update?
It comes with great sadness to inform all of you, that U of G's in person competition has been cancelled.  That said, the virtual competition is currently in progress and we wish all our competitors good luck. 
Sincerely,
The Office of Graduate and Postdoctoral Studies

How to Register
1) Complete the 3MT Registration and Participation Waiver Form
2) Email the completed form to your college's 3MT Coordinator
3) Begin planning your 3MT presentation!
Tips, Advice & Resources
How To Build a Great 3MT Presentation
Eligibility:
To participate in 3MT® students must currently be registered in a Masters (thesis or MRP only) or PhD program at the University of Guelph and have made substantial progress on their research and analysis.
PhD and Masters students who have defended but have not yet graduated are eligible to participate.
Presentations must be based on research that is directly related to the student's graduate program thesis.
Presenters must agree to be video-taped
Rules:
A single static PowerPoint slide is permitted (no slide transitions, animations or 'movement' of any description, the slide is to be presented from the beginning of the oration).
No additional electronic media are permitted (e.g. sound and video files).
No additional props (e.g. costumes, musical instruments, laboratory equipment) are permitted.
Presentations are limited to 3 minutes maximum and competitors exceeding 3 minutes are disqualified.
Presentations are to be spoken word (eg. no poems, raps or songs).
Presentations must be made by memory; notes may not be used.
The decision of the adjudicating panel is final.
Dates
CEPS
March 3, 2020
10 am - noon

SSC 1511

Lang
March 4, 2020
2:30 - 4:30 pm

MACS 129

CSAHS
March 6, 2020
10 am - noon

MCKN 019

OVC
March 9, 2020
10 am - noon

PAHL 1810

CBS
March 11, 2020
9:30 am

SSC 1511

OAC
March 12, 2020
10:30 am - 1:30 pm

Johnston Hall 
Boardroom

COA
Cancelled
 

 
University of Guelph Final Competition
| | | | |
| --- | --- | --- | --- |
| University of Guelph 3MT® Final Competition | Virtual Competition in Progress |   |   |
Provincial Competition
The winner of the University of Guelph 3MT® competition will move on to represent the University at the Provincial Competition hosted by the University of Windsor is now postponed.
Past U of G Winners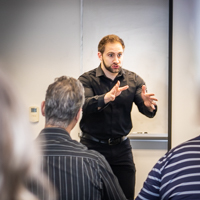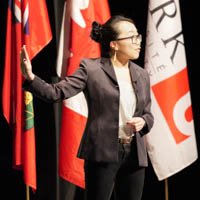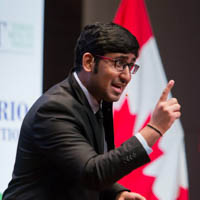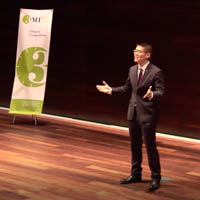 Share this page