3MT - Three Minute Thesis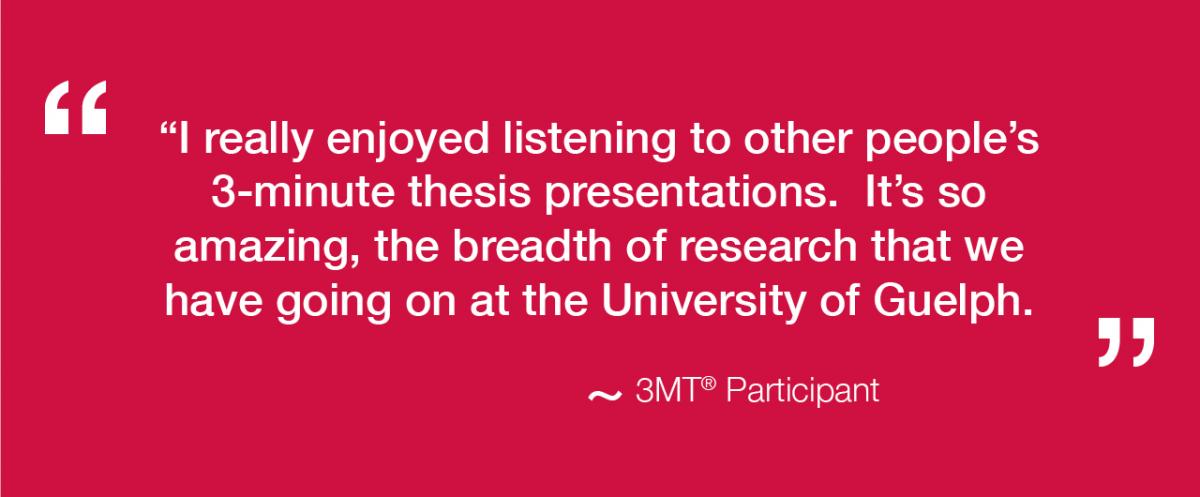 Why Participate in 3MT?
3MT® is a university-wide competition for graduate students in which participants present their research, creative activity, and its wider impact in 3 minutes or less to a panel of non-specialist judges. The challenge is to present complex research in an engaging, accessible and compelling way, using only one slide.
3MT® is not an exercise in trivializing or 'dumbing-down' research but forces students to consolidate their ideas and discoveries to become transferable after graduation. For the 2021 3MT® Competition, each college will hold an online competition in order to decide upon two finalists who will advance to the University of Guelph 3MT® Final Competition on a date this spring to be announced. The public is invited to cheer on the contestants in both the college heats and the final competition. The winner of the University of Guelph 3MT® competition will move on to a virtual Provincial Finals this summer.
Prizes:
First Prize: $1000 (to be paid against tuition)
Runner Up: $500 (to be paid against tuition)
Third Prize: $250 (to be paid against tuition)
How to Register
1) Download and complete the 3MT Registration and Participation Waiver Form
2) Email the completed form to your college's 3MT Coordinator
3) Begin planning your 3MT presentation!

Check below for your college contact, registration, dates and deadlines.
College Heat Information & Registration Deadlines

Tips, Advice & Resources
Eligibility:
To participate in 3MT® students must currently be registered in a Masters (thesis or MRP only) or PhD program at the University of Guelph and have made substantial progress on their research and analysis.
PhD and Masters students who have defended but have not yet graduated are eligible to participate.
Presentations must be based on research that is directly related to the student's graduate program thesis.
Presenters must agree to be recorded.
Rules:
A single static PowerPoint slide is permitted (no slide transitions, animations or 'movement' of any description, the slide is to be presented from the beginning of the oration).
No additional electronic media are permitted (e.g. sound and video files).
No additional props (e.g. costumes, musical instruments, laboratory equipment) are permitted.
Presentations are limited to 3 minutes maximum and competitors exceeding 3 minutes are disqualified.
Presentations are to be spoken word (eg. no poems, raps or songs).
Presentations must be made by memory; notes may not be used.
The decision of the adjudicating panel is final.
2021 Dates
College
Submission Deadline
 
College of Arts

March 29, 2021

 
College of Biological Science
March 15, 2021
 
Lang School of Business and Economics
tba
 
College of Engineering and Physical Science
Register by Feb 22
- 5pm
 
College of Social and Applied Human Science
March 26, 2021
by noon
 
Ontario Agricultural College
tba 
 
Ontario Veterinary College
March 29, 2021
 
University of Guelph Final Competition
| | | | |
| --- | --- | --- | --- |
| University of Guelph 3MT® Final Competition | tba | tba | Online |
Provincial Competition
Stay tuned here for details of the 2021 3MT Provincial Competition.
U of G Winners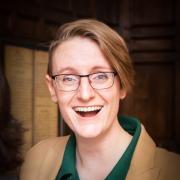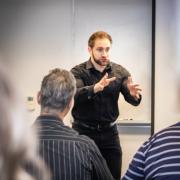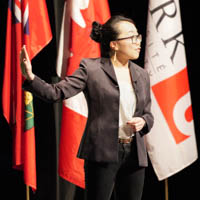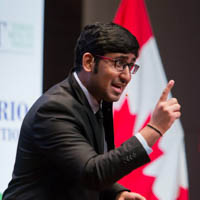 Share this page