COVID-19
The Office of Graduate and Postdoctoral Studies is working to ensure that existing and incoming graduate students, and applicants stay informed of the University's response to the evolving global impact of COVID-19.  The University is continuing to update our COVID-19 page with recent information, answers to FAQs and other resources. 
Existing Students: see UPDATE FROM THE AVP GRADUATE STUDIES.  For international students with questions relating to your study permit, please connect with your international student advisor; if you have gone abroad or intend to go abroad, and you have new immigration or travel concerns, please consult with your international student advisor.
Incoming Graduate Students:   Students expecting to start summer'20 should have received an email outlining your options; if not,  please email us.  Students expecting to start fall'20 should count on doing so, at least until told otherwise.  If you have questions or concerns about meeting the conditions on your offer letters, please email us.
Applicants: We continue to process applicants and issue of offers of admission. 
The Office of Graduate and Postdoctoral Studies is committed to supporting our students.  We will work with you to ensure minimized disruption for all current and incoming students. 
Anastasia Stellato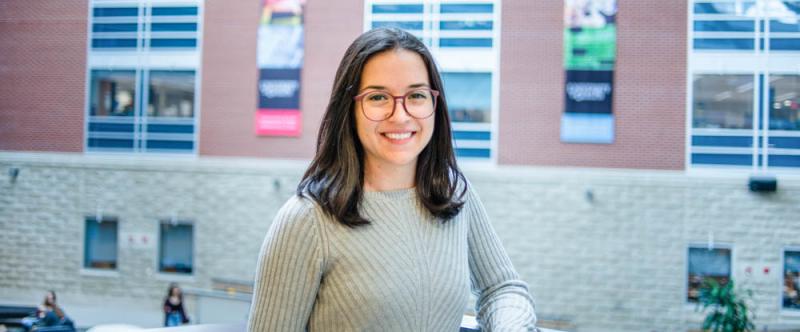 2019 PhD Population Medicine
Program
2019 Graduate – Population Medicine, PhD
About My Advisor… 
I had a very strong relationship with my advisor/mentor. She was approachable, helpful, considerate, and provided strong guidance and constructive feedback. I was very lucky to have her as my advisor, as she was a big part of my academic success thus far.
About Being a Grad Student at U of G… 
There are animals everywhere, from seeing eye dogs in training to horses and cows at the research barn.
How Will Your Research Improve Life?
Through my research, I am privileged to be able to provide evidence-based knowledge that can be applied to promote canine welfare within veterinary clinics. In particular, my research will assist veterinary staff and dog owners on how to improve a dog's experience at the veterinary clinic.