Andrew Nixon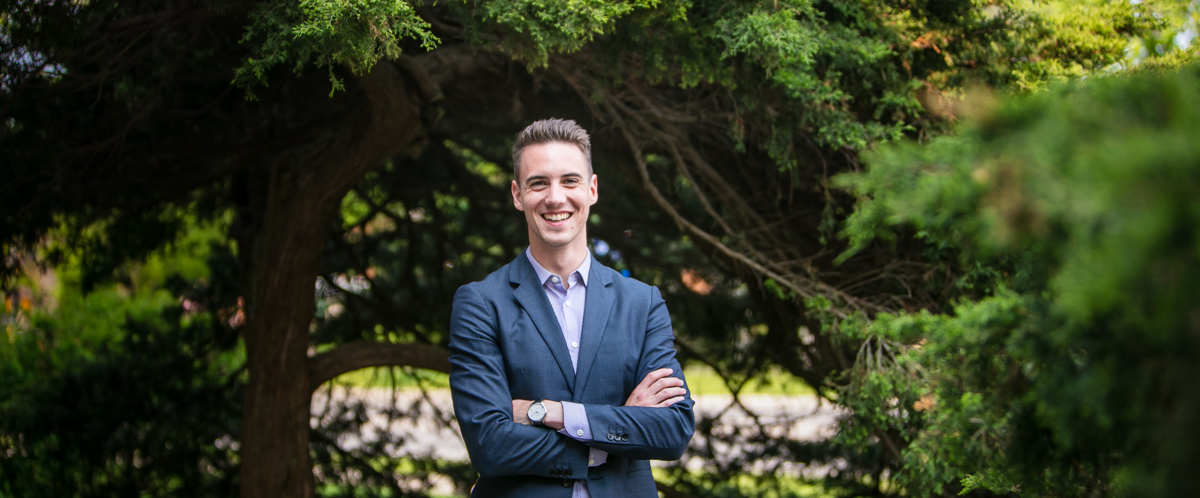 Program
Why I chose Guelph:
I'm excited to continue my studies at the Lang School of Business and Economics as I see an incredible opportunity to build a world-class team with Dr. Simon Somogyi, the Arrell Chair in the Business of Food, and create a centre of research excellence within the School of Hospitality, Food and Tourism Management that can explore and advance the role of business in solving the issues facing our food system. I'm incredibly fortunate to also be an Arrell Scholar and work with the absolutely wonderful interdisciplinary team at the Arrell Food Institute. The University of Guelph is Canada's Food University and I am very much looking forward to collaborating with all of the amazing faculty and staff on campus across disciplines, learning from them and bringing their knowledge into my research.
How I came to grad studies at U of G:
Both of my previous degrees are from the Lang School of Business and Economics at the University of Guelph, and I originally came to Guelph to compete for the varsity cross-country and track and field teams. My undergraduate was a Bachelor of Commerce where I majored in Human Resources Management (now named "Management" as of Fall 2019). I completed my Masters of Arts in Management in  2019 and was the Lang School's first recipient of the D.F. Forster Medal upon graduation. Between my undergraduate and graduate degrees, I worked in the horticultural industry, first in new product sales and intellectual property and then as a management consultant for Ferrero Canada and the Ontario Hazelnut Association.
Favorite thing about the campus...
My favourite spot is the Fifth's rooftop patio on a sunny day, it's a fantastic place to do some writing while enjoying a drink and one of the best views of campus.
About the city of Guelph...
I really appreciate the sense of community I find here and the proximity of campus to downtown. I find there's a sense of shared values around supporting
sustainable initiatives and a very active athletic community with plenty of trails to explore. The ability to easily (most of the time) access Toronto to catch any concert or play or artistic event I want to see is also a huge bonus.
About my work...
My PhD research will focus on how farm businesses can transition from primary processing to creating value-added branded products for international export. This research will help create a roadmap for how Canada can meet the ambitious challenge to increase our agri-food exports by 32% to $85 billion by 2027 by comparing our value-added sector to Australia's.
Australia benefits from major trading relationships with the Asia-Pacific nations that will experience the greatest growth in middle-income spending over the coming decades. My research will help Canadian farms evolve their business management strategies based on the success of another country that is crucial to learn from, as Australia holds the trading relationships we will need to gain to hit our export targets. I aim to create a set of guidelines for businesses to follow in adopting innovative processes that build trusted brands for overseas markets, as well as policy recommendations based on these guidelines that can be used by governments to inform workshops, training, and capital for firms that are already using these processes.
How will my work Improve Life?
How do you create healthy rural communities and achieve national export targets?
Some might see this question as two separate strategies but for me and my work, it's the same issue. Farm businesses that are able to grow their profits through exporting high-value branded products are able to be more competitive in our global marketplace. Greater profits allow businesses to grow and hire more people, attracting good jobs to rural communities. Communities are buoyed by strong farm businesses that are growing their profits, creating more jobs and contributing higher tax revenues, generating strong rural economies in which municipalities can provide more and better services to their citizens.
Canada can become the global leader in providing safe, trusted food and my research will help achieve this vision by helping our individual farm businesses take advantage of new technologies to improve their sustainability and traceability as they transition to value-adding and brand creation.
Beyond being a grad student...
I co-founded Zerocery, a zero-waste grocery retailer and delivery service this past year with my business partner, Evan Hall. We graduated from the Wood Centre's Hub Incubator in Spring 2019 and had a soft launch over the summer before our grand opening in Fall 2019. We aim to deliver zero-waste in every possible grocery category from produce, pantry, meat, and seafood to home and beauty and bring together a network of local suppliers to make socially and environmentally-conscious shopping more accessible and affordable for everyone.