Ashleigh Weeden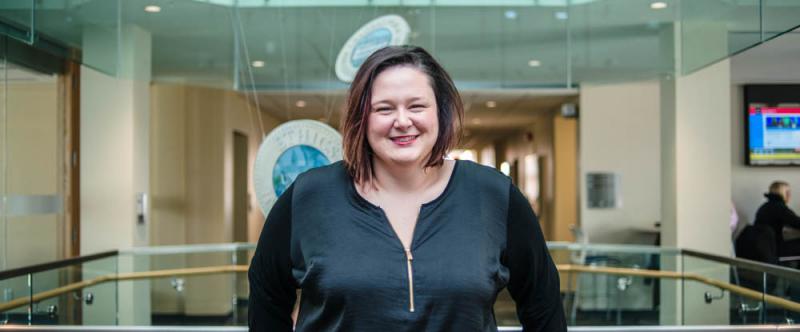 2023 MSc Plant Agriculture
Program(s)
Rural Studies, PhD
Why I Chose Guelph...
Because the University of Guelph is home to a diverse network of leading rural scholars and innovators in the agri-food sector and has fostered special relationships with key agencies responsible for rural policy, it was my first choice for pursuing research on rural innovation. This environment offered important contextual value to my research on rural innovation ecosystems by placing it within the inter-disciplinary Rural Studies program, which offers access to wide variety of rural scholars with national and global influence on important public policy agendas. Choosing SEDRD was a natural extension of my previous training in public policy and community development and places me at the heart of an institution that is recognized as a leader in rural research, providing access to previous research and crucial opportunities to liaise with decision- and policy-makers in Canada and abroad.
About My Advisor… 
My advisor was Dr. Ryan Gibson, Libro Professor in Regional Economic Development in the School of Environmental Design and Rural Development. I feel like I had won the lottery by having the chance to work with Dr. Gibson. He is fantastically generous with his time, resources, knowledge and networks and has made me feel completely supported from day one of my doctoral journey. Not only is Dr. Gibson an incredibly highly regarded rural scholar in Canada and abroad, he works on a broad portfolio of critical and interesting research and has created every opportunity possible for me to join him in his work. His commitment to helping me achieve my academic and professional goals was absolutely vital to my success as an emerging rural scholar, from hands-on support in pursuing funding opportunities to creating opportunities to contribute to meaningful rural research. Having worked with Dr. Gibson is an every-day master class in what it means to be the kind of scholar and practitioner I aspire to be.
About Being a Grad Student at U of G… 
The UoG is a collegial, collaborative place. The emphasis on inter/cross-disciplinary collaboration and the focus on applied, meaningful research makes graduate studies at Guelph feel like important, valuable work. It's an active, engaging campus that presents every opportunity to build a broad range of personal, professional, and academic skills while also being part of projects that give back to the community here at home and abroad.
For graduate students in Rural Studies, the faculty is experiencing rapid renewal, bringing a range of diverse new voices in rural studies into the fold and presenting incredible opportunities to learn from both established and respected academics as well as exciting new leaders in the field. Guelph's unique relationships with national and international networks and with key policy agencies and institutions like OMAFRA mean there are incredible, unique-to-Guelph funding opportunities and vital platforms for translating your academic practice to real-world impact. Finally, because SEDRD is such a diverse department, it offers one-of-a-kind opportunities to learn from and engage with your peers in a way that feels supportive rather than competitive. The overarching feeling of the department is that everyone wants to see each other succeed and there is an overwhelmingly spirit of generosity in helping each other achieve whatever goals you have in mind.
How Will Your Research Improve Life?
My research will help identify key drivers for future-oriented rural economic resiliency, opportunities for supporting rural-specific innovation systems, and provide critical guidance on integrating innovative rural communities as critical nodes in the broader national agenda in a way that supports rural communities' self-defined priorities and economic competitiveness in a rapidly changing and increasingly digital global economy – an area of evidence-based policy and practice that remains a critical issue both in Canada and around the world.