Chrys Apostolatos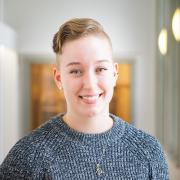 2019 MA Art History & Visual Culture
Program
2019 Graduate – Art History & Visual Culture, MA
About My Program...
Completing my Undergraduate degree in Art History at the University of Guelph was a positive experience. It was from my undergraduate degree that I felt it was a natural step to complete my graduate degree in Art History and Visual Culture at the University of Guelph. Knowing my professors was a huge benefit in pursuing this program. Additionally, the opportunity to work as a teaching assistant in undergraduate classes as well as complete paid internships at local museums and galleries has provided me with hands on experience.
How Does Your Research Improve Life?
My research focuses on how to better connect Southern settler and Northern Inuit communities through art. Specifically, focusing on how access to artwork can be increased for Northern Inuit communities is crucial to my research. Access to art is pivotal, given that Inuit art is primarily controlled by museums in the South of Canada. My research pinpoints how access can be increased between the Art Gallery of Guelph and the Northern Inuit community of Baker Lake Nunavut.