Corey Madore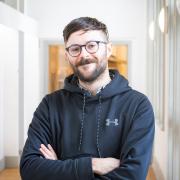 Program
Art History & Visual Culture, MA
Why did you choose U of G for your graduate studies?
I wanted the opportunity to pursue graduate studies where I knew there was a faculty that would both support and challenge me. The professors have offered me an amazing amount of support and direction throughout my time here at U of G. With the opportunity to further develop my research skills while having practical experience built into the program meant I felt confident that this was the best place to further my academic career.
How Does Your Research Improve Life?
I hope that my research will help further the transparency of art institutions through the study of Medieval Art historiography and museum practices. I believe that becoming more aware of potential selection bias within art history can help develop more open and inclusive study and museum display practices.