Hannah May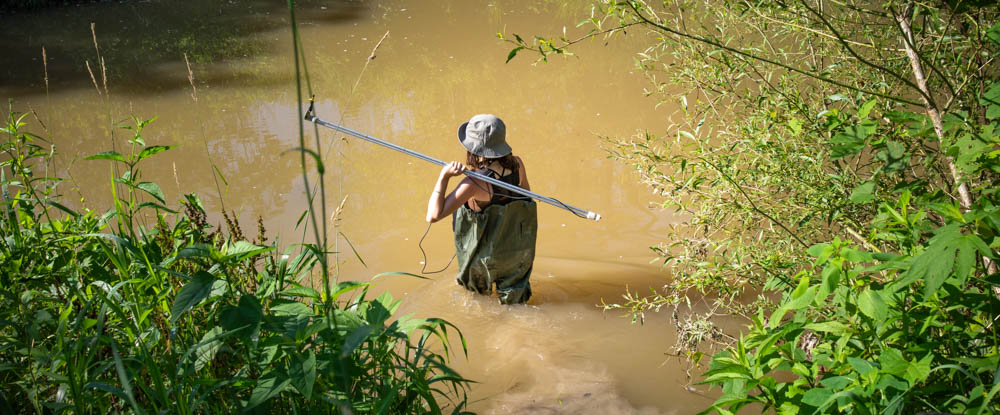 Program:
Engineering, MASc Water Resources Engineering
A bit about your path... 
I started my undergrad degree in Environmental Sciences at Dalhousie University. After my first year, I took time off to do some travelling and decide if this school and program were right for me. During this time, I was able to visit Northern Canada, Iceland, Spain, and the Canadian Rockies. I think I decided to start at Guelph because it had a lot of things I was looking for in a university town, like a quaint downtown, nice campus, lots of green space, and it was a good distance from my hometown. 
I think something that's helped me get to where I am is just being interested in what I'm doing. I think it's important to be mindful with your time and space, and to be conscious if you're in the place you'd like to be! Also remembering that it's not a race, and your path is your own. Be compassionate with yourself and take time off to figure out what feels right if you need it. 
A bit about the work you are doing here... 
In my research I'm studying nutrient transport throughout different components of the hydrologic cycle, such as the stream water, sediments, and groundwater in a watershed that eventually discharges to Lake Huron. I'm really excited that my work is focused around the health of the Great Lakes, as they are such an incredible feature in Canada. I grew up spending a lot of time near Lake Erie and Lake Huron, at the beach, fishing, and seeing family. It's pretty amazing we have these water bodies in Canada, and can access them so easily in Southern Ontario. 
I found my MASc research through an email from a professor I worked with in my undergrad. It's important to get to know professors in undergrad and let them know if you are considering graduate studies in the future. 
How do you think your research (or the work you are doing at U of G) can potentially improve life? 
I think it is really important to understand how nutrients are being transported and stored in our watersheds surrounding the Great Lakes, so we can implement practices that target and remove excess nutrients from our environment. Lake Erie has suffered, and is still suffering, from nutrient enrichment that we could not prevent nor remedy with our understanding of nutrient transport at the time. If we are going to build robust conservation and remediation strategies to avoid the eutrophication of the Great Lakes, we need a better understanding of the dominant pathways for nutrient transport, climatic and hydrologic drivers, and how legacy nutrients are stored and released in the environment long after application. 
Do you have any advice or words of wisdom for a prospective grad student or someone who would like to follow in your footsteps? 
When I was deciding on my graduate studies, something that was really important for me was considering what the 'everyday' would look like. I think this is really important in research projects, because often the goal or the outcome of the project can sound so incredible, it's easy to overlook what the everyday work looks like. Am I going to be working a barn? Sitting at a desk running a complicated model? Travelling for research? These things really matter to your graduate experience. For me, getting outside for field work and working in a natural environment seemed perfect. Although I'm not outside everyday, it's great to get out to the field and away from the desk. There are some early mornings, lots of planning, and you'll run into bad weather, but overall it's very rewarding work. 
About the U of G campus and the city of Guelph... 
My favourite thing about the University of Guelph campus is the Arboretum! It's such a lovely space full of meadows and woodlands, so close to campus! There's also a great disk gold course and education center with interesting events. It's also used for a lot of graduate research projects and some undergraduate courses at UofG. 
Guelph is a great city. It's such a good size where you can experience the downtown scene and also natural parks and green spaces. I really like living by the river in Guelph. The parks surrounding it are so popular for students and locals. It's also such a walkable and bike friendly city. I love having the ability to get around without relying on a bus or a car all the time.