Idalia Rodriguez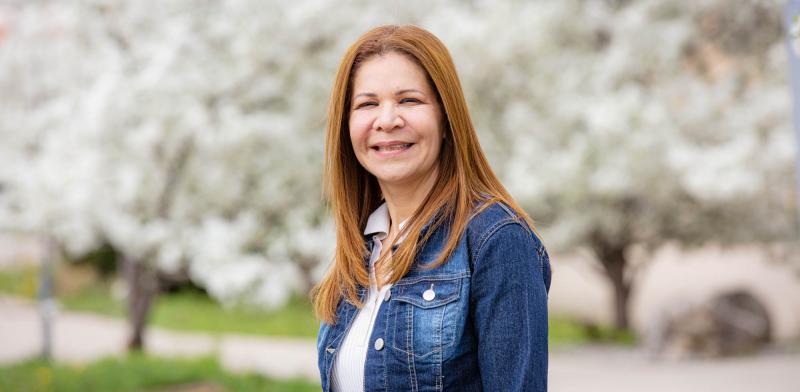 Program
MA Latin American & Caribbean Studies
Why I chose Guelph...
I was a high school language and literature teacher in my country, and I was looking to specialize in something similar.
About my path to Guelph...
My children are my engine. I work as a volunteer at DCOGT, and they always encourage me to continue my professional growth and allow me to learn and adapt to the Canadian culture. Professor Gordana Yovanovich, with her help, makes the admission process and other administrative processes smooth and seamless.
About the work I do at U of G...
I am very excited about my research work since it has allowed me to update myself with new Latin American writers and their works and have a better vision of Latin American literature in contrast to Central American literature.
How my research can potentially improve life?
I have had the opportunity to work in my "Experiential Learning" with an NGO translating workshops on how to help Hispanic families to be successful in their settlement in the Peel region. This has changed my vision of how NGOs can get involved with the community and improve the quality of life of their citizens by promoting inclusion; It has been an enriching and enjoyable experience.
About my advisor...
I deeply admire my advisor, Professor Stephen Henighan; he has enough knowledge and love for Latin culture contagious and exciting. He also makes any obstacle an opportunity to move forward.
My future plans...
I want to continue working with an NGO related to Latin America. I have realized this after my Experiential learning. I thank the University of Guelph for providing this type of work contact and Professora Rosario Gomez, who guided me and was essential to achieving this academic goal.
A bit about me...
Studying for a master's degree has allowed me to value myself as a professional; being a mother with three children who have emigrated has not been easy, but we must try. Improving the quality of life of our family only depends on us, and despite the bureaucracy, lack of resources or time, you can do that.