Jamie Armstrong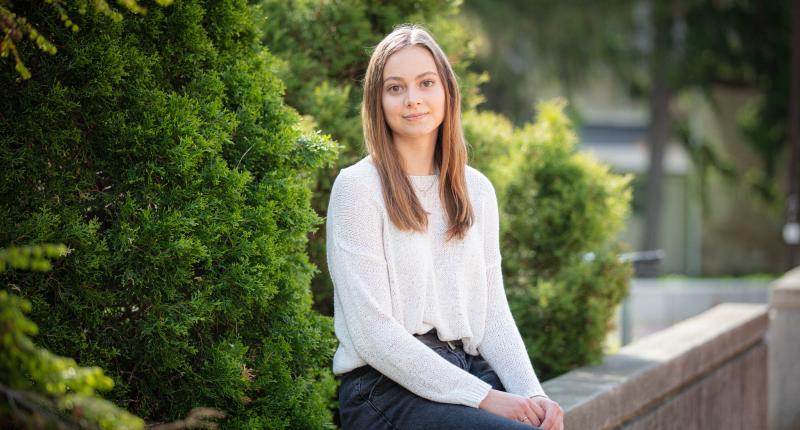 Program
Criminology & Criminal Justice Policy
Why did I choose Guelph?
The Criminology and Criminal Justice Policy program at Guelph is one of only a few of its kind in Ontario. I was drawn to the interdisciplinary focus of the program, as the courses span across the fields of criminology, sociology, and political science, while also incorporating content on research methods and knowledge mobilization. The teaching and support I have received during my time at Guelph have helped me become a very well-rounded and capable individual, and have opened many doors for my future.
A bit about my path...
I completed my undergraduate degree at the University of Guelph in the Bachelor of Arts and Sciences program, specializing in Neuroscience and Criminal Justice & Public Policy. My undergraduate studies fostered a love of learning that made me very eager to continue in academics. During my time in undergrad, I developed connections with faculty who were supportive mentors and who guided me in my transition from undergraduate to graduate studies.
A bit about my work...
For my master's degree, I am writing a major research paper that focuses on emerging adults (aged 18-25) within Canada's justice system. This group is susceptible to great difficulties and barriers to reintegration within the justice system, due to their incomplete psychological and social development that is often interrupted upon entering the system. My work integrates criminology, political science, neuroscience, and psychology, allowing me to focus on and expand my knowledge of the different fields I'm passionate about.
How does my research Improve Life?
The Criminology and Criminal Justice Policy program has a key focus on social justice and advocating for changes that will improve life for some of the most vulnerable groups in our society. For instance, in my research on emerging adults in our justice system, I advocate for reform in the treatment of this group that will foster healthy cognitive and social development, rather than hinder it.
About my advisor
I began working with my advisor in the third year of my undergraduate degree, after I volunteered to assist him in his ongoing research projects. My advisor's research interests and expertise aligned well with the topics I am passionate about, and so as I transitioned into my graduate program, I was eager to have him as my supervisor. As I progress through my program, my advisor is always available to provide feedback on my projects and answer my questions, and his guidance has been essential for my learning and my success.
What it's like as a graduate student at UofG 
Graduate students at UofG make up a large and welcoming community, with lots of opportunities for socializing and networking with peers within and outside of our field. With many resources on campus to support academic success and mental and physical well-being, the UofG community can be counted on to give a helping hand when it's needed and support student success.