Jessica Helwig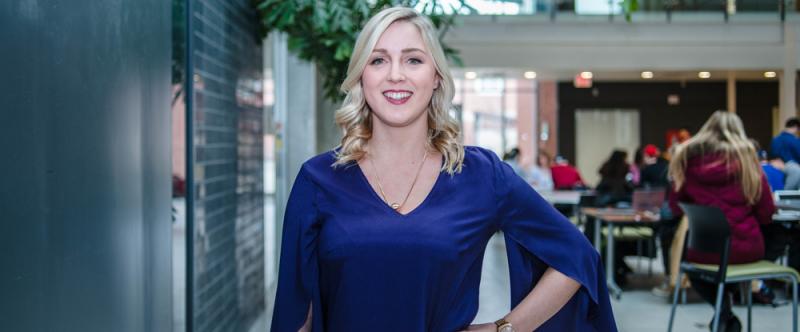 2018 Master of Public Health + IDEV
Program(s)
2018 Graduate – Public Health with International Development Studies, MPH
Why I Chose Guelph… 
After completing my undergraduate degree at U of G, I was eager to further my education at an institution that was known for its strong academics, but more importantly, offered a supportive and engaging learning environment. It was important for me to enter a program that encouraged collaboration and valued student engagement. Specifically, I selected this program because it was not only well respected and known for creating influential leaders, but was also small enough to ensure I would have frequent interaction with faculty and access to many diverse opportunities.
About My Advisor… 
My advisor was a great source of support and guidance. He constantly made himself available to his students and encouraged open communication. I always appreciated that he had the confidence in me to succeed, but was also willing to offer his expertise if I was struggling to accomplish any of my goals. He was a key resource for my success in graduate school.
About Being a Grad Student at U of G… 
Being a graduate student is empowering. You're working in a dynamic environment that is filled with peers that will stimulate and challenge you. Your days are full of meaningful interactions with respected experts and diverse opportunities that allow you to become engaged with your discipline beyond the boundaries of a classroom. While graduate school does require considerable commitment, your hard work is certainly compensated by all the incredibly enriching experiences you are exposed to.
What Makes U of G Unique?
The atmosphere felt around campus is definitely a plus. The campus is always buzzing with activity and offers many opportunities for collaboration and connection. The students are passionate and a strong sense of community can be easily witnessed. U of G is definitely an energizing and dynamic place to be, which really enhances the overall experience.
About the City of Guelph… 
I've always found Guelph to be a vibrant community with great energy. There is always something going on and plenty of unique restaurants, stores, and markets to explore. It's also very central, which means getting around is fairly easy.
About Future Goals...
After graduation, I am hoping to find a form of employment that will allow me to work on topics related to my passions. The university has done a great job of helping me to achieve this by creating unique exposures to different networks. Through various guest lectures and conferences, I've been introduced to an assortment of professionals and have had the opportunity to learn about different career paths.