John A. Cline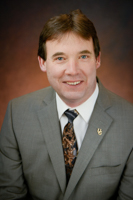 Program
About my research
My research involves studying the physiology and production management of apples, cider apples, peaches, pears, and cherries. As with any agricultural crop, the industry is rapidly changing with the availability of new cultivars, rootstocks, production systems, and labour saving technology. I work closely with the tree fruit industry to help solve complex problems and provide extension services to the industry, growers and stakeholders.
How my research can improve life
The primary objectives of my pomology research are to investigate factors that determine yield and fruit quality of tree fruit crops, as well as environmental issues surrounding tree fruit production. Experiments include investigating the use of new, dwarfing peach and cherry rootstocks, irrigation scheduling, plant bio-regulators, and new methods to thin apples and peaches. I am also interested in understanding the physiological basis for rain-induced cracking of sweet cherries, as well as studying the benefits of organic mulches in the orchard.
Why chose grad studies at U of G?
The University of Guelph is world-renown for his expertise in agricultural research. The Department of Plant Agriculture offers a unique graduate studies program to study tree fruit physiology and production. We are one of the few institutes in Canada offering graduate training in pomology. We have excellent lab and research facilities with modern research orchards in Simcoe where students can develop practical hands-on training.