Kaitlyn Lawson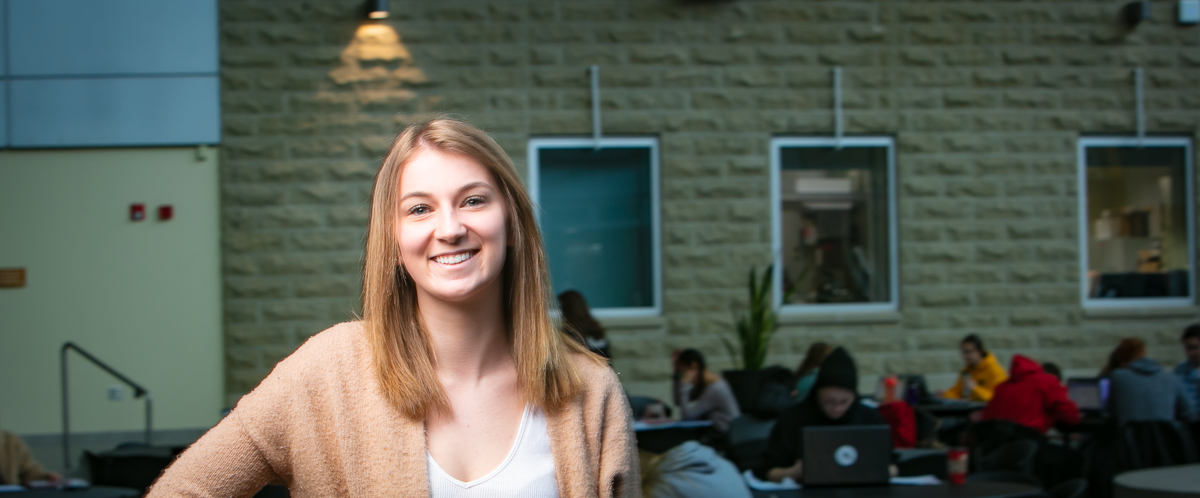 2020 MSc Animal Biosciences
Why I chose Guelph
The University of Guelph had always been my dream school growing up. This dream was realized when I was accepted to Guelph for a Bachelor of Science Degree in Animal Biology. I fell in love with the University and all the opportunities it had to offer. Throughout my undergraduate degree I was exposed to several different sectors of animal science, and become passionate about research in animal science. Once I decided to pursue a Master of Science degree, my first choice was to do it here at Guelph! I love the campus environment here and the University of Guelph's research in animal science is cutting-edge and world-renowned. The ability to work with amazing scientists and have access to state of the art technology and facilities made the decision to pursue graduate studies here at Guelph easy for me​
About the campus
I love the warm and friendly vibe of the University of Guelph campus, and I love our school spirit! At Guelph you feel like you're a member of this huge family with common goals and interests.
About the city of Guelph
Guelph is the perfect blend of big city and small town. I'm originally from Toronto, and Guelph offers everything I could want from a city, but with the warm, easy-going, friendly feel of a small town.
Words of advice
Pursue research that you are passionate about and that inspires you. Graduate studies are a lot of work and can be difficult, and if you're not passionate about your research then you probably won't enjoy it. That being said, don't be afraid to step out of your comfort zone and experience new things, whether that be academically or personally. Also, don't be afraid to get involved, some of my greatest experiences at the University of Guelph have been outside of the classroom.
How will my work Improve Life?
My research aims to assess the impacts of different nutritional programs and management systems on the health and performance of beef cattle prior to weaning. The health and performance of calves prior to weaning plays a crucial role in the subsequent success of these calves after weaning. Furthermore, it is important for the cows to be healthy and maintain good growth and body condition during lactation to allow them to be bred and continue within the herd. From an economic perspective, evaluating nutrition programs and management systems can help producers reduce costs and maximize profits. This summer, I will have the opportunity to speak with producers and industry representatives about this research. 
My research also aims to evaluate the impacts of these nutritional programs and management systems on cattle emissions. The relationship between animal agriculture and the environment is becoming an increasingly important topic amongst consumers and producers. By assessing the ways in which management and nutrition may impact cattle emissions, this research aims to provide valuable information to consumers and producers.
My future plans
After graduation I hope to pursue a degree in veterinary medicine. The University of Guelph has played a huge role in helping me work towards this goal. The hands-on experience and research experience I've gained during my undergraduate and graduate degrees have exposed me to several different sectors of veterinary medicine and animal science. This experiences have motivated and inspired me and drive me towards this goal.