Lara Termos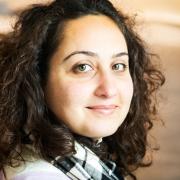 Program
Art History & Visual Culture, MA
Advice For Prospective Grad Students...
Prepare, prepare, & prepare. Meaning, come with a clear vision of what you want to do. Read as much as you can and practice writing. Most importantly, maintain the drive to learn and keep learning.
About My Program...
The MAAHVC is the program which relates directly and indirectly to my research on visual perception. Being a graphic designer, with an artistic background, this program tied in well with my interests in art and the impact of its history on the shaping of visual culture and how we perceive what we see.
How Does Your Research Improve Life?
Since psychology plays a big role in determining how we see things, I do hope to have my research on visual perception assist in being a fundamental part in vision disability or mental health diagnosis, especially amongst bereaved children.