Serena Viola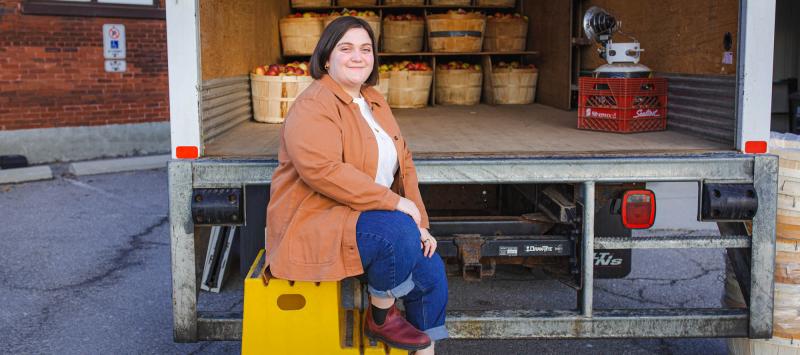 2023 MSc Capacity Development & Extension
Program
MSc in Capacity Development & Extension
Why I chose Guelph...
I choose Guelph to complete my graduate studies because of the range of interdisciplinary opportunities. When I came across the Capacity Development and Extension program it embodied the values and fields I was looking to explore. In my case, this included the topics of foodways, diasporic communities, immigration, inclusivity, and knowledge mobilization.
A bit about my path...
I completed my HBA at the University of Toronto double majoring in Political Science and Diaspora and Transnational Studies (DTS). The faculty at DTS are extraordinary at encouraging student research and growth. Dr. Ted Sammons and Dr. Kevin Lewis O'Neill were wonderful mentors who helped me discover the possibilities of what I can achieve beyond undergrad.
A bit about my work...
In the last semester of my undergrad, I took a course through DTS faculty called "Diasporic Foods" taught by Dr. Kenneth MacDonald. It was in that course that I developed an interest in the field of gastronomy as a tool for building resilient communities. My thesis aimed to examine the relationship between immigrants and diasporic identifying individuals living in rural communities and their access, or lack thereof, to culturally significant foods. It was very exciting speaking to people about their experience as rural immigrants and cultural foods. Food and culture and incredibly intertwined- it is an honour to have had these conversations and discuss how rural communities can become more inclusive to diasporic peoples.
My research aims to help understand the overall experience of rural immigrants. It will help communities address rural immigrant needs as it relates to food and culture and hopefully help rural communities retain the immigrants they do attract.
A bit about my advisor...
My academic advisor was Dr. Al Lauzon. We worked well together and set attainable goals for me to reach. Dr. Lauzon provided me with great guidance and support. Grad school can be very isolating, talking with your advisor as needed and asking for feedback is a must, it is very easy to become overwhelmed with your research as you are often working independently.
My plans after graduation...
I am looking for a variety of roles within the agriculture, food security, and policy field. The great thing about CDE is that you acquire so many transferable skills in various fields that can be applied in various roles.
What it's like to be a graduate student at UofG...
Like many graduate students that started in September of 2020, my entire University of Guelph experience was online. This was challenging at first, but student groups adapted and made extracurriculars online and accessible for those of us not in Guelph. CDE even had a few get-togethers that I got to attend on campus.