Vijay Thomas Issac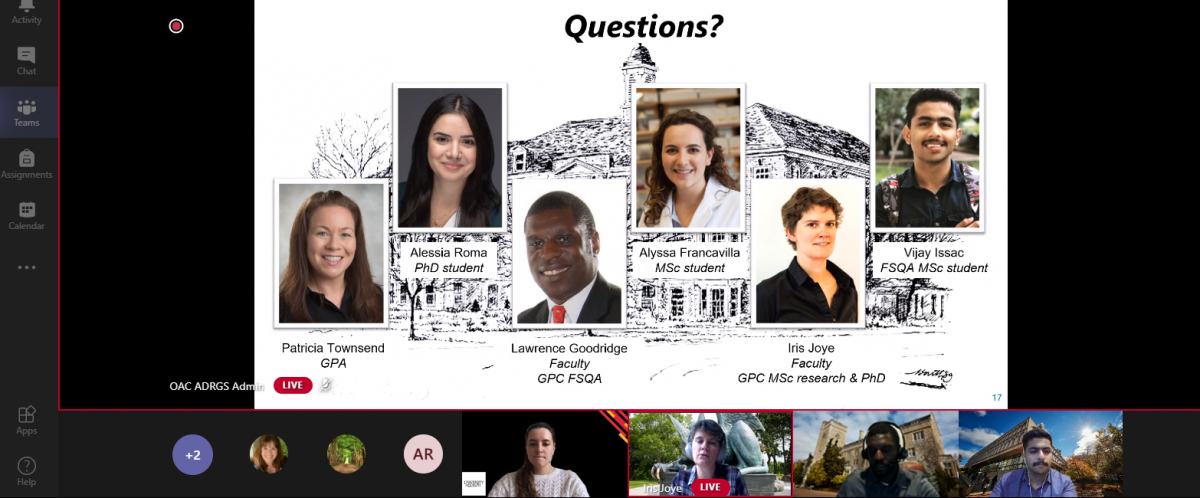 Vijay Issac Participating in the OAC Grad Preview Day
Program
MSc, Food Safety & Quality Assurance
A bit about your path...
I started my first semester (September 2020) online from Nigeria as the University was closed due to the COVID pandemic. At the same time, I was also conducting an ISO 9001:2015 quality management systems project in a snacks and cereals manufacturing company in Lagos, Nigeria. During my first semester, I found myself virtually with students from diverse countries and food safety experiences. I can't forget the virtual food safety seminar classes by Dr. Don Mercer. He was like a mentor to me, guiding and checking on me every Thursday during the class session. The month followed I received an email from Dr. Goodridge that created a huge impact on my food safety leadership and communication. He asked me to represent the food safety and quality assurance department and take part in the virtual preview days webinar where I got the opportunity to share my experience in the program and my interests in the field of food safety and the industry. At present, I am at the University of Guelph (arrived during the Summer, 2021 – 3rd semester) and I still interact with and guide many international students in the application process, program outline, and life in the University.
Why Guelph? 
Choosing to complete Masters in Food Safety and Quality Assurance at the University of Guelph was purely based on my passion to work in the Canadian food industry. Before applying to the course, my work experience involved initiating quality and defect management level projects in a couple of food manufacturing companies in Lagos, Nigeria. Through the phases of my last project (ISO 9001:2015 QMS) in Nigeria, I felt a strong passion to learn more about the various elements in a food company that facilitates the production of safe and quality food to their target population. While going through the different programs offered by many Universities in the US, Canada, Belgium, New Zealand, etc., there was this just one program that covered all the courses I was looking for. It was the MSc. Food Safety and Quality Assurance (FSQA) program offered only by the University of Guelph, Ontario. I did not think twice about it and just applied to the FSQA program and awaited a positive application response. I made sure that if I did not get into the program I would continue to work in Nigeria and keep trying till I get a seat in the course. 
A bit about the work you are doing here... 
Currently, I am in my last semester at the University of Guelph. I arrived in Guelph from Nigeria in May 2021. While I was in Nigeria, I conducted a major research on the assessment of sanitary conditions of street food vendors in Lagos, Nigeria with continuous guidance from my research advisor Dr. Maria G. Corradini. After my data collection, I came to Guelph (that was also when the University operations slowly resumed and flights resumed operations from Nigeria). I spent my summer semester working on the paper and analyzing my data. Currently, in the fall 2021 semester, I am working on publishing the paper on approval from Dr. Goodridge and also working in the University residence as the resident advisor in my last semester at the University. I am also doing a volunteer service at the Spero Guelph where we address the food insecurity of the poor in the Guelph community. 
How do you think your research at U of G can potentially improve life? 
My research focused on the unregulated operation of street food vendors in the cities of Lagos, Nigeria. Nigeria is a developing country and is considered a low-to-middle-income country. Food safety and stewardship is about providing safe and nutritious food to the world. There are many countries like Nigeria, where the safety of street foods is not monitored although the street food business is one of the fastest-growing sectors and a major contributor to a countries economy. As food safety leaders it is our responsibility to perceive the unregulated business through the eyes of science and leveraging statistical analysis to expose their unhygienic operations and risks rendered through the street food operation. Tourists from all around the world are susceptible to foodborne diseases if they consume street foods from developing destination countries. I believe my research will provide a platform for more studies to be done on the regulation and sanitary operation of street food vendors operating in developing countries and modernizing the policies surrounding their operation. 
About your advisor...
Dr. Maria G. Corradini and I started working on the major research in early December 2020. During the Christmas holidays, we had weekly meetings to be ahead of the data collection process before I arrived in Canada. She was more than just my research advisor. She guided me throughout my arrival process in Canada by giving me information on hospitality services at the University and medicines to carry in case of allergies. She was also my course instructor for FSQA 6150 Food Quality Assurance Management. It was really difficult for me to bid farewell to Dr. Corradini and my research project towards the end of the summer semester. I hope I will be able to pursue a Ph.D. program under Dr. Corradini in the future at the University of Guelph. 
What do you plan to do after graduation? How has UofG helped you reach that goal? 
My purpose in coming to Canada was to work in the industry after equipping the knowledge derived from the FSQA program and my course advisor's guidance. After graduation, I would like to work in the dairy or meat sectors in Canada. I have applied to Cargill foods, Weston Foods, and Maple Leaf Foods and hope to expect a response within this month.
Through the departments and Universities' various online food safety webinars and events, I had the opportunity to meet and interact with various food safety professionals from different Canadian Universities. The leadership and graduate students program provided helped improve my communication and leadership abilities. I feel confident to step out as a Masters's degree holder and see myself develop in one of the best food companies in Canada.
What it is like to be a graduate student at UofG...
It is always a proud moment for me to say I am a graduate student pursuing Master's in FSQA at the University of Guelph. Compared to my bachelor's degree, being a graduate student involves sincere dedication, patience, teamwork, and application-level thinking when studying and working on course assignments and quizzes. You are in a master's program with peers of various age groups and a wide knowledge database. Probably the team member in your presentation group would be working with the Canadian Food Inspection Agency (CFIA)! Thus, it is a great platform for a graduate student at UofG to meet the professionals in the industry who are their course mates along with the highly qualified and super helpful Professors. 
UofG campus...
It has been only two months since I have been to campus as the premises and establishments were closed in response to the COVID-19 pandemic. During the last two months, I enjoyed walking along the Branion Plaza, feeling the heartbeat of the campus and the rejuvenated campus life by students out of their homes as the pandemic is shedding its initial fear impacts. The McLaughlin Library used to be my abode of peaceful study tenure for the last one month till the weather started becoming rainy and chilly. The 6-floor building of wisdom is filled with any books one could go for in helping with any academic-related purposes. 
The City of Guelph...
I started my stay in Guelph from the first week of May at the East Village Townhouses. After staying here for six months (currently, I am at the East Residence) I feel Guelph is a place away from the busy city life with lots of noise and people, the perfect place one could ask for to have a peaceful academic growth. Also, this is a great place for international students to start their academic life in Canada. The many job opportunities provided by the University (both on-campus and residence) provide the students' financial support in meeting their daily needs and at the same time grow personally and academically in their workplace. The Arboretum in the University is an amazing place to spend some time away from school and relax in nature. Downtown Guelph also has given me nice memories as I used to hang out with my friends in the small restaurants there watching a soccer game or talking about life.
Tell us something about you, beyond being a grad student. 
Beyond being a graduate student, I am someone who enjoys spending time with friends and feeling a sense of homeliness in this new country. I love helping the prospective students applying for FSQA and am happy to see their passion for food safety and being a part of the Gryphon family and most importantly contributing their knowledge and leadership towards the Canadian food safety system. 
Outside academics, I am a great fan of soccer and play whenever there's time (and no rain or chilly winds!). I love playing Chess also. I love watching comedy series and chess videos on YouTube. 
Working as Resident Advisor in the University Residence has helped me meet and interact with many Canadian students which helped me understand and study the Canadian culture and improved my communication.