COVID-19
The Office of Graduate and Postdoctoral Studies is working to ensure that existing and incoming graduate students, and applicants stay informed of the University's response to the evolving global impact of COVID-19.  The University is continuing to update our COVID-19 page with recent information, answers to FAQs and other resources. 
Existing Students: see UPDATE FROM THE AVP GRADUATE STUDIES.  For international students with questions relating to your study permit, please connect with your international student advisor; if you have gone abroad or intend to go abroad, and you have new immigration or travel concerns, please consult with your international student advisor.
Incoming Graduate Students:   Students expecting to start summer'20 should have received an email outlining your options; if not,  please email us.  Students expecting to start fall'20 should count on doing so, at least until told otherwise.  If you have questions or concerns about meeting the conditions on your offer letters, please email us.
Applicants: We continue to process applicants and issue of offers of admission. 
The Office of Graduate and Postdoctoral Studies is committed to supporting our students.  We will work with you to ensure minimized disruption for all current and incoming students. 
Ari Mendell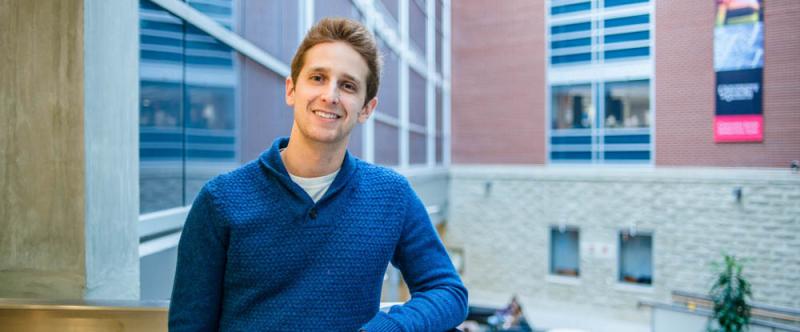 2019 PhD Biomedical Sciences with Neuroscience
Program
Graduate 2019 – Biomedical Sciences and Neuroscience*, PhD
Why I Chose Guelph… 
The inclusive, open environment of the University of Guelph drew me to the university, while the many opportunities for research collaborations, teaching experience, and ability to travel to conferences and meetings kept me here. While generating data and contributing new knowledge to improve our understanding of biology and disease is an essential part of graduate studies, my department understands that there is more to the graduate student experience.
Advice For Perspective Grad Students… 
Graduate studies are not to be taken lightly, and choosing the lab, department, and institution are just as important as the research itself. The U of G supports their graduate students in a way that some larger universities don't, and an emphasis is placed on graduating well-rounded, critically-thinking students that will be able to succeed in whatever profession they choose.
About My Advisor… 
I have been working with my advisor in different academic capacities for nearly 7 years, and we have a very strong working relationship. His support and mentorship has led to my personal work ethic and drive to be the best scientist that I can be, and consistently seek to expand my knowledge.
About Being a Grad Student at U of G… 
Having done my Master of Science degree at UofG, and now nearing completion on my Ph.D, I have experienced many different sides of graduate life. The university is an open, supporting environment to pursue graduate studies, where high expectations of research and academic responsibilities are appreciated to be only one side of a healthy work-life balance.
What Makes U of G unique?
There has always been a general open and relaxed vibe about the UofG campus, that is really refreshing to be a part of.
About the City of Guelph… 
I have lived in the City of Guelph for nearly 10 years now, and have no intention of leaving any time soon! The city is so vibrant and full of life, especially when you consider that it's not very big. There is never a shortage of things to do, the parks and outdoor activities are awesome, and the whole city is welcoming.
How Will Your Research Improve Life?
My research is greatly contributing to our understanding of why some neurodegenerative diseases are more likely to develop in one sex or the other, which will hopefully lead to targeted treatment development in order to proactively improve well-being.