Danielle Julien-Wright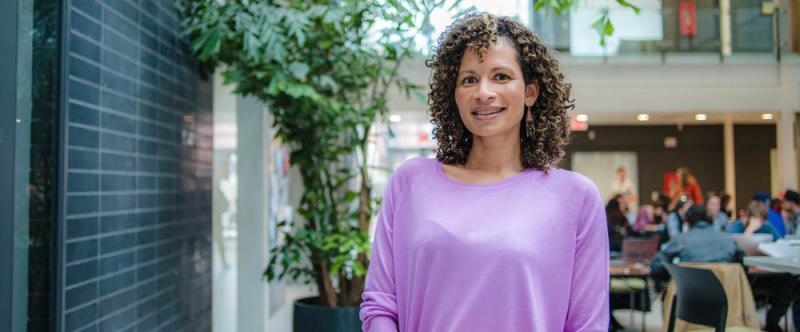 2020 PhD Population Medicine
Program
Population Medicine, PhD
Why I Chose Guelph… 
I am a veterinarian (OVC class 2008) and PhD candidate (Advisors: Jan Sargeant and Sherilee Harper) fascinated by the complexities of zoonoses (i.e. diseases naturally transmissible between animals and humans). I have a fervent interest in combining the philosophy of One Health with epidemiology to better understand, control and prevent these types of disease in animals and humans and the environments in which they live and share. The University of Guelph seemed a natural choice to fulfill my passion and dream and provides a remarkable opportunity to be advised and mentored by some of the world's most renowned epidemiologists.
About My Advisor… 
I have a great relationship with my main PhD advisors both of whom are well-respected and exceedingly accomplished epidemiologists. I am also exceedingly fortunate to have advisors who have encouraged and promoted opportunities for hands-on experience in the actual design and conduct of epidemiological studies. To this end, I have been responsible for every aspect of my thesis from beginning to end – from writing grant proposals; to designing, conducting, analyzing and interpreting studies; to preparing my manuscript and presenting the results of studies. While this range of learning activities can add additional time to a 3-year PhD program, it has provided an exceptional position from which to attain the broadest range of practical skill sets and experiences.
About Being a Grad Student at U of G… 
Being a graduate student at UofG has been an extraordinary experience. Graduate school is filled with a wild ride of experiences many of which have helped me to grow as an individual and part take in team-oriented learning and social activities with others. It feels more like being part of a family than simply being a student. During my PhD I became a mother on two occasions :) being a mum in grad school means that my work time has to be focused which meant finding a new dedication and motivation to my research and completing the PhD. I feel that while there are few mothers in my program, there is great support from other students who have often asked if they can help babysit my kids and have also been an ear and a shoulder through some of the tougher times.
What Makes U of G Unique?
The Arboretum. As an avid runner, I absolutely love running through the Arboretum - Summer is my favourite season to do so, but snow shoeing through the beautiful crisp untouched snow and larger than life trees in the winter is also quite beautiful - the Arboretum provides a refreshing change of scenery mere minutes away from any office on campus.
About the City of Guelph… 
The City of Guelph has become for me a home-away-from-home. As someone from the Caribbean, it was nice to come to a place that has a manageable pace of life within a bigger city landscape. Guelph is also becoming more diverse not only in its population but in the various foods, festivals and activities that can be experienced here. I am still in awe of the UofG campus which every single fall still has an ability to make me stop dead in my tracks marvelling at the beauty of its trees and overall landscape. This place is magical!
About Future Goals...
Underpinned by the study of epidemiology, my PhD research seeks to explore the confluence of human, animal and environmental health; to probe the questions surrounding how often diseases occur in different groups of people and animals, and why. As a veterinarian with a fervent interest in the complexities of zoonoses, I believe it both necessary and pivotal to our improved understanding, appropriate implementation and progression of health research to couple the principals of epidemiology with the philosophy of One Health. When I complete this degree, I would like to use my graduate degrees and formal veterinary training to combine veterinary epidemiology with One Health to work in collaboration with developing communities to improve the health and well-being of animals and people through exchange of knowledge and sustainable community health research.