Matthew Rudland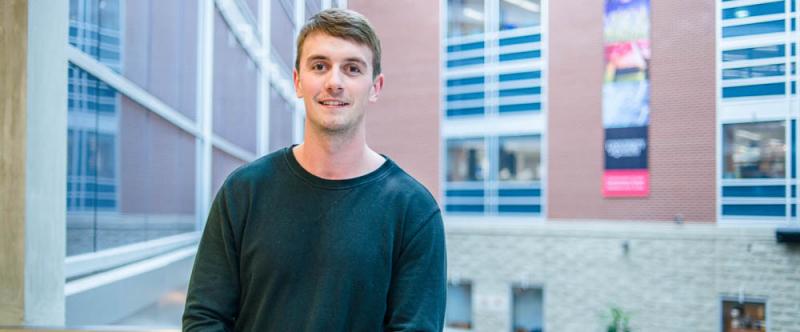 2020 MSc Environmental Sciences
Program
About My Advisor… 
I first met my advisor, Dr. Tom Hsiang, in the third year of my undergraduate studies when I took his Forest Health and Disease class. This course spiked an interest in plant pathology for me and after speaking with him, he encouraged me to first volunteer and then work in his lab as a research assistant in order to obtain hands on experience in a laboratory setting that involved working with plant pathogens. I enjoyed working in Dr. Hsiang's lab as he created a very positive work environment and provided me with both indoor and outdoor work which suited my interests. In addition, Dr. Hsiang does a great job at pushing his students to always complete their work to the best of their abilities, while simultaneously ensuring that they have the necessary guidance and skills to complete the tasks he asks of them. Also, since he has a large number of students and assistants working in his lab, he makes an effort to allow everyone to get to know one another by having lab gatherings with food every month or so and encourages us to help each other out with our work. Each week, all of his students and assistants are required to complete a weekly report that highlights all of the tasks you completed that week and what you plan on doing in the near future. He returns the report with detailed feedback and gives us the opportunity to meet with him to go over it in more detail at the start of each week so we can ask questions about his comments that we may not fully understand. One of the greatest benefits of having Dr. Hsiang as an advisor is that he continues to give feedback even while on vacation or doing research overseas and will arrange Skype meetings to go over the reports when he is not here. Overall, he has been a huge factor in encouraging me to go forward with graduate studies and continues to make me happy with the decision to do so.
How Will Your Research Improve Life?
My research is just beginning but it will deal with using biostimulants as environmentally friendly alternatives to fungicides, for preventing dollar spot disease, which is one of the most prevalent disease that affects turfgrass on golf courses worldwide. My research will hopefully allow me to identify species and cultivars of turfgrass that respond positively to various biostimulant applications and therefore have a lower disease incidence. This will potentially allow golf course managers to use fewer fungicides in the future by switching to biostimulant applications, which will reduce the environmental impact that they have on the surrounding ecosystems.