Melanie Dupuis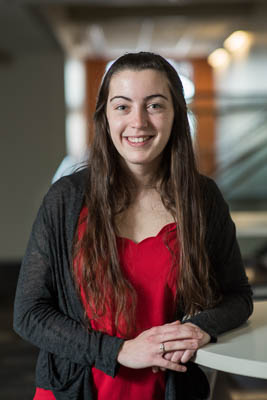 2017 Msc Population Medicine
Mental health in adolescents
Program
2017 Graduate – Population Medicine (Epidemiology)
How my Research will Improve Life… 
I hope to provide people with information and resources on how to help protect mental health.
About My Advisor… 
My advisor and I had a great relationship. He was always quick to answer any of my questions or e-mails and always set aside time to meet with me whenever I felt it was necessary. Whenever we met, not only did he provide me with advice about my work or instructed me on what my next steps were, but we will also spent time simply chatting about absolutely anything - from movies to restaurants and everything in between. It was great to be able to work with someone who was not only helpful and resourceful but who was also someone that I can get movie recommendations from! Overall, he was extremely helpful and is part of the reason for my success today. 
About the City of Guelph… 
The City of Guelph is awesome in the sense that it has everything you need, but still has a "small town vibe". You can easily walk to many places or enjoy all of the parks and nature within the city, but still have the bonus of having many resources available to you without having to travel far. The city is also conveniently central to other major cities, so it makes it easy to travel around on demand. In addition to this, everyone in Guelph is super friendly and are always willing to help. 
About Campus… 
My favourite thing about our campus is the special feeling you get the moment you set foot on the premises. Everyone at Guelph is so welcoming and because of our relatively small campus, you will always see a familiar face whenever you are here. On top of that, people are always smiling and are always willing to help, even if it is simply holding a door open for you. The campus has such a positive and accepting atmosphere, and you never need to feel alone!