Rebecca Gordon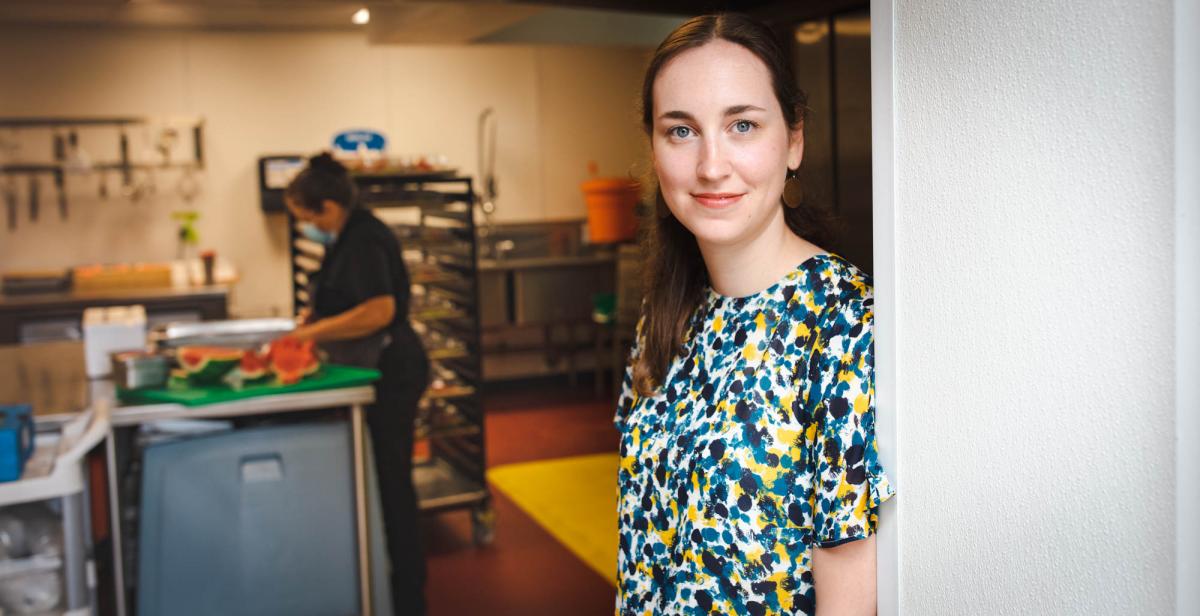 2022 MSC Tourism and Hospitality
Program
Why did you choose to complete your graduate studies in your program at the University of Guelph? 
When applying for graduate school, I knew that I wanted to focus my research on restaurants and how they could improve social and environmental sustainability. I liked that several of the courses in the Tourism and Hospitality graduate program had a focus on sustainability and that the Gordon S. Lang School of Business and Economics focuses on using business as a force for good. Another big factor in my decision to attend the University of Guelph was that there were several faculty members who specialized in studying restaurants which I was excited to learn from.
A bit about your path... 
I attended the University of Guelph for my undergraduate degree in Hospitality, Food and Tourism Management. While in my undergrad I was able to participate in the Garden2Table program, Slow Food and intern with the University of Guelph Sustainable Restaurant Project. All of these programs were created by Professor Bruce McAdams and I am grateful that he included me in all of them! These activities opened my eyes to the importance of learning about food systems, education and being a part of the community. After my undergraduate degree I managed the restaurant Miijidaa Cafe + Bistro where I was able to use my knowledge from my undergraduate degree to incorporate environmental and social sustainability practices into the business. I learned that I loved to be innovative and share best practices with other restaurants. I wanted to continue to learn more which is why I decided to pursue a Masters degree at UofG. I wouldn't have made it to where I am today if I hadn't taken lots of risks and participated in lots of different projects to figure out what it is that I enjoy.
A bit about the work you are doing here... 
I love anything to do with restaurants and I'm always finding new things that I am fascinated with and want to learn more about. My research on restaurants focused on how restaurant workers experience their work. My thesis explores how restaurant management is an extreme job because it requires an excessive amount of work in order to keep up with the intensity of the job. Another research project that I worked on explored how restaurant managers are able to learn and implement practices in their restaurant that can reduce their environmental footprint. My own experience of managing a restaurant for 5 years helped me to identify opportunities and challenges in the restaurant industry that require further research. It was important to me that my research is applicable and can help the restaurant industry grow. 
How do you think your research (or the work you are doing at U of G) can potentially improve life? 
My research will be useful for restaurant operators and restaurant workers because the results will help to identify barriers that make it difficult for environmental and labour practices to be implemented. With the identification of barriers, the restaurant industry can develop strategies to overcome them which will result in increased well-being of restaurant workers and the planet. 
Please comment on your academic relationship with your advisor 
I am very lucky and have had two advisors, Mark Holmes and Bruce McAdams. Working with both of them was an incredible experience. They were both very supportive of my work, provided helpful feedback and pushed me to learn and grow with my studies. I am grateful for all of the help, encouragement and opportunities they provided me.
What do you plan to do after graduation? How has UofG helped you reach that goal? 
I hope to work as a restaurant consultant or hospitality educator to help improve how restaurants operate. My classes, research and work opportunities at the University of Guelph have allowed me to learn important research, data analysis and communication skills. My masters degree has also helped me gain confidence in my knowledge of restaurant sustainability practices which I hope to be able to share with more people. 
Tell us something about you, beyond being a grad student. 
Outside of my school work I am also an organizer for the Canadian Restaurant Workers Coalition. I have been spending lots of time educating and advocating for the rights of restaurant workers throughout the Covid-19 pandemic. 
Briefly describe what it is like to be a graduate student at UofG 
A lot of my time when I was a graduate student involved completing course work or research for my thesis topic. It's nice that a lot of the work was self-guided which gave me a lot of flexibility in my schedule. I was also fortunate enough to work as a research assistant for Professor Bruce McAdams as well as helped with the opening of the Anita Stewart Memorial Food Laboratory as their event intern. It is great that there are so many opportunities available which provided me with a lot of variety and different projects that got me excited about every day!
A bit about UofG campus and the City of Guelph... 
I love that the campus is fairly small and no matter where you go, you'll usually bump into someone you know. Everyone is friendly and you're always bound to have an interesting conversation with someone. I also love PJ's restaurant on campus and being able to go by and see all of the students learning how to run their own restaurant!
I like the community feel of the City of Guelph and how people seem to care about their environmental footprint and helping out their community members. I especially like Downtown Guelph where there are lots of great independent restaurants and shops.