Rhiannon Digweed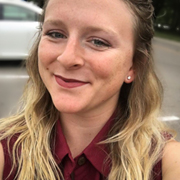 2020 MA Art History & Visual Culture
Program
Art History & Visual Culture, MA
How you became a grad student at U of G...
I decided to complete my graduate studies at Guelph as I gained a lot of experience here throughout my undergrad and wanted to further explore what Guelph had to offer. The faculty of the art history department were inspiring and gave me the tools to succeed in furthering my academic career.
How will grad studies at Guelph help you in the future?
I hope to find a career within the museum field as I have for a long time now been interested in curatorial practices such as exhibition design. I come from a studio art background, so jumping into an art history degree felt like the right move towards the museum field. In both studio art and art history I have always enjoyed the narrative feature that art presents to its viewers. So to create an exhibition that tells a cohesive narrative about a time, place, or person would be an amazing experience.
Advice for prospective grad students...
Have really good time management! Being ahead on a project will do you wonders when deadlines start to creep up. And don't be afraid to make mistakes and not be entirely sure what you want to accomplish from the start. Faculty are there to help and guide you on your journey but you must also be willing to be challenged and accept productive criticism.
Tell us about your research and how it can potentially improve life?
My research looks at the overlooked role of Andrew Carnegie as a curator and the potential philanthropy has towards not only funding the arts but elevating the appreciation of art. Using the medium of Japanese Ukiyo-e print I argued that Carnegie sought to elevate the appreciation of art specifically for working class individuals of his hometown in Pittsburgh in nineteenth-century America. I hope my work will start conversations about the role modern philanthropy has towards the arts today and the accountability philanthropists hold in ethically funding their projects.